Tennis Lessons for Kids
At Gold Coast Tennis Academy we ensure our students are taught the correct technique and skills in a fun, friendly and safe environment.Our experience shows that children learn best through play, and therefore our tennis lessons for kids are created so all participants are involved and actively engaged at all times. They make new friends, have fun and learn new skills.Our director was involved in the very development of modified tennis in Australia, as well as developing a fundamental motor skill program for the New Zealand K-6 PE Curriculum, so he understands the flaws of every modified program available and what is really needed to make kids tennis lessons a successful structured and dynamic program.
We have adapted our program to be less rigid in structure, and dynamically change based on the skill levels of the pupils in each class and how rapidly they are progressing. Fundamentally, we still use modified courts and nets and lower compression balls, as they do in the Tennis Australia Hot Shots Program, The ATPCA Hot Hits Program, and the Wilson Pee Wee Tennis program, however the main difference is the way students can enter, progress and naturally flow through the program.
We have witnessed 6 years olds who can play competently with yellow balls, perform slice serves, topspin and slice groundstrokes, and sustain 200+ hit rallies from mid court with a coach. We have also had 13 year old players who can't maintain a 3 hit rally from inside the service boxes with an orange ball. This shows a rigid structure simply does not work.Our stages are skill level based – not age based, and this is the only way we feel students should progress through any tennis program. It aids their overall development of the game, and increases their ability to enjoy the sport as they are able to succeed at all stages.As a guideline, we break our program into a number of stages using the following measures:
• Tennis skills and capabilities are assessed at the end of each term.
• Age will be considered but does not determine their class.
• Students may be advanced by an Academy Coach to a more suitable stage/level based on their skill level and enjoyment of the class.
Stages of Kids Tennis Lessons
Blue Stage
Ages: 3 – 5 years
Class Duration: 30-45 Minutes
Class Capacity: Maximum of 4 Students
Students begin exploring tennis basics while the fundamentals of tennis strokes are introduced. This popular kids tennis program incorporates developing sensory motor skills, coordination, balance and strength while maintaining a fun environment.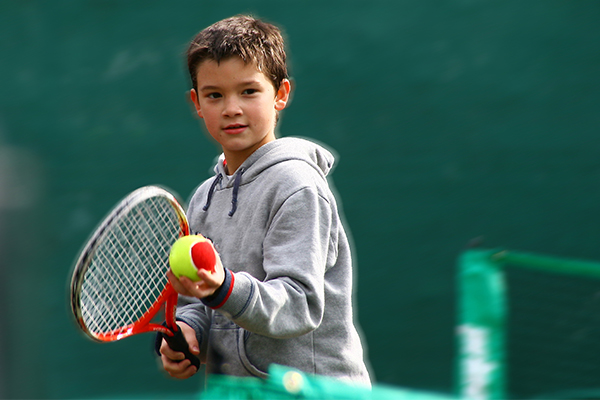 Red Stage
Ages: 4 – 8 years
Class Duration: 45 - 60 Minutes
Class Capacity: Maximum of 6 Students
Students in this stage use 25% compression red balls that bounce lower and slower, making them easier to hit. The balls are larger than a normal tennis ball so they are easier for the eye to track. Students will learn the grips, strokes and basic movement and will be encouraged to control, rally the ball and play tennis based fun games.
Orange Stage
Ages: 5 – 11 years
Class Duration: 1 Hour
Class Capacity: Maximum of 6 Students
Students will learn the fundamentals of tennis including, grips, swing patterns, rally ability, serving and scoring. The program involves group lessons to increase self-confidence, rallying ability and challenge tactical development in a fun environment. This stage uses 50% compression orange balls, which travel a little faster than the red balls and are the same size as a standard ball, helping build speed and reactions on the court.
Green Stage
Ages: 7 – 15 years
Class Duration: 1 Hour
Class Capacity: Maximum of 6 Students
The Green Stage program involved stroke and tactical development. The program prepares children for junior tennis tournaments, competitions and school tennis in a fun environment. Physical and mental components are introduced for more advanced players through singles and match play. Once students have entered into the Green Stage they use 75% compression green balls. By this stage their motor skills and tennis game should be progressing at a steady pace.
Yellow Stage
Ages: 10 + years
Class Duration: 1 Hour
Class Capacity: Maximum of 6 Students
The Yellow Stage gives students the opportunity to further develop their technique and match play skills. They will learn how to rally with more consistency and power, improve their court coverage, doubles team work and net play. From here, students have the chance to compete in tournaments with the aim of playing the sport at a more advanced level.
Childrens Tennis Lessons
Tennis lessons for children aren't just restricted to our modified programs. We have a large number of students who elect to participate in
private tennis coaching
lessons as well as
tennis squads
and high performance sessions and Match Play. For more information on private lessons for kids or trying out our squad sessions please contact us.
Match Play
Match Play is designed to help junior tennis players gain tennis match experience. The students will have the opportunity to put the tennis techniques they are learning in their classes into real match situations in a fun environment, and is not restricted to students enrolled in existing classes. We cater for all levels of play.
Session Learning Outcomes:
• Team development
• Rules of tennis and etiquette
• Singles and doubles play
Book Now to Avoid Disappointment
We have a waiting list of students ready to attend childrens tennis lessons, so if you would like to add your child into one of our programs, please contact us early so that we can fit you in and reserve a place. If a vacancy comes up mid term, we will then contact you and give you the opportunity to take this spot if you wish.So you can keep up with the kids, why not also check out our
adult tennis classes
or try cardio tennis.
Phone us today on 1300 663 330